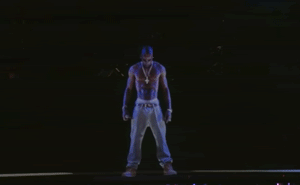 The biggest buzz at Sunday's Coachella music festival in California wasn't for a hot new DJ or indie-rock band. It was for Tupac Shakur, the rapper who died more than 15 years ago and "performed" Sunday night alongside Snoop Doggand producer Dr. Dre.
Internet video of the Sunday evening show became an instant sensation on Monday morning. That response is helping push the possibility of a virtual Tupac tour in coming months.
The rapper's ghostly image was created byDigital Domain Media GroupInc.,

DDMG

+19.42%

the visual-effects house responsible for making the virtual versions of Brad Pitt that populated 2008's "The Curious Case of Benjamin Button." The movie won the Oscar for visual effects.
Representatives for Dr. Dre and Snoop Dogg plan to discuss logistics for a tour involving the two performers and the virtual Tupac, according to a person familiar with the discussions.
One option would be a tour in stadiums, involving other hip-hop stars, including Eminem, 50 Cent and Wiz Khalifa. Alternately, they could stage a more limited tour, featuring only Dre, Snoop Dogg and the virtual Tupac, in smaller arenas.
Digital Domain is a publicly traded company that reported revenue last year of $98.6 million. The thinly-traded company has a market capitalization of $211 million. Its stock is down 15% year-to-date.
"To create a completely synthetic human being is the most complicated thing that can be done," Digital Domain's chief creative officer, Ed Ulbrich, said in a phone interview Monday.
He said that the performances of the rapper's hits "Hail Mary" and "2 of Amerikaz Most Wanted" weren't simply old ones captured on film and repurposed: "This is not found footage. This is not archival footage. This is an illusion."
"This is just the beginning," Mr. Ulbrich said. "Dre has a massive vision for this."
Spokeswomen for Dr. Dre and Snoop Dogg declined to comment.
Mr. Shakur was shot to death in Las Vegas in 1996, at age 25. Because the shooting has never been solved by authorities, it has become grist for conspiracy theories akin to the "Elvis lives" rumors a generation earlier.
Dr. Dre and his production team first approached Digital Domain a year ago to discuss the possibility of creating a virtual Tupac. They began work in earnest on the Coachella performance around four months ago.
First, the image was created on a computer, using physical characteristics and movements captured from recorded performances.
Advances in computer graphics and video projection allowed Sunday night's illusion to be far more lifelike than other recent efforts.
For the projection aspect, a San Diego company called AV Concepts used a variation of a visual effect that was discovered in the 19th century, known as Pepper's Ghost.
Though the projected image has been widely described as a "hologram," it is a 2-D image and not a hologram, which is 3-D.
The effect was first used in an 1862 dramatization of Charles Dickens' novella "The Haunted Man and the Ghost's Bargain," staged at the Royal Polytechnic Institute in London, according to Jim Steinmeyer, an illusion designer who has written extensively about the history of his craft, including Pepper's Ghost.
The effect relies on an angled piece of glass in which a "ghostly" image is reflected. "A piece of glass can be both transparent and reflective at the same time, depending on how it's situated relative to the audience," said Mr. Steinmeyer, pointing out the secret.
In the Victorian version of the trick, the glass reflected an actual actor, situated out of sight in near the orchestra. On Sunday night, the image was projected on a piece of Mylar—a highly reflective, lightweight plastic—stretched on a clear frame.
"What's happening in Coachella is virtually the same thing that was happening in 1862," Mr. Steinmeyer said. One difference: In the Victorian era, Pepper's Ghost was normally used to reflect actual, physical objects or actors, making them appear "dimensional" in ways that the projected or computer-generated imagery typically used today do not.
Mr. Steinmeyer used similar technology to create an illusion in which Frank Sinatra appeared at a 2003 concert.
A London-based company called Musion Systems Ltd. owns the patent for using a Mylar screen in the illusion. Musion said it licenses its technology to around 30 companies around the world, including AV Concepts. Its technology was also used for the 2006 Grammy Awards, when an animated rock band called the Gorillaz appeared to perform live on stage with Madonna.